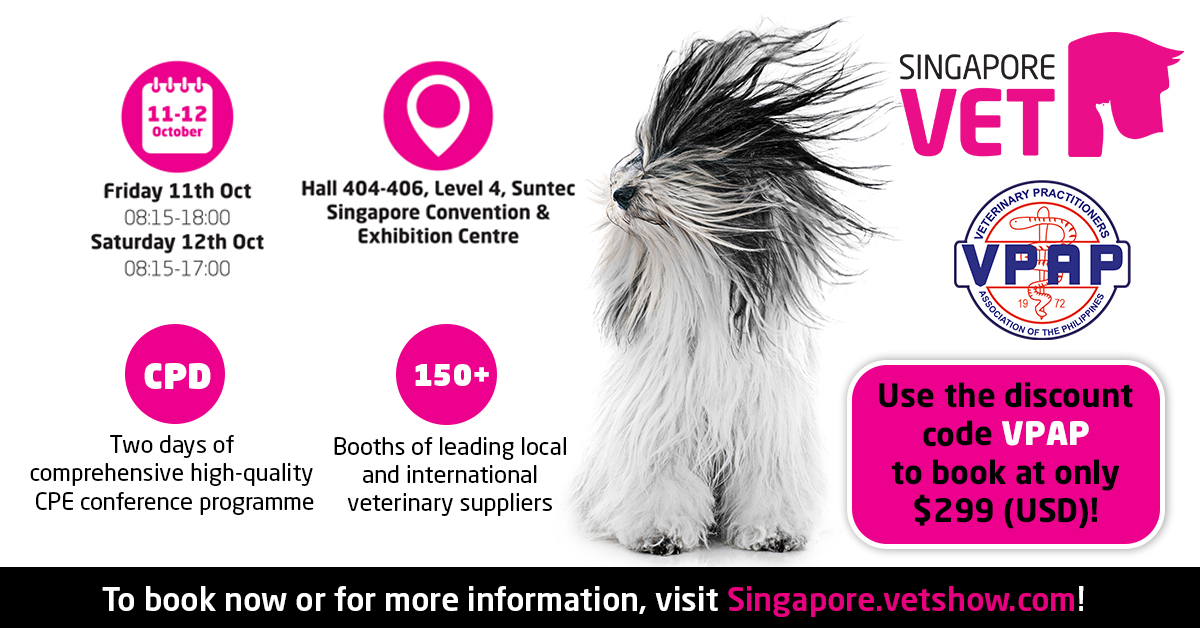 LAST CHANCE FOR YOU TO JOIN VETERINARY PRACTITIONERS ASSOCIATION OF THE PHILIPPINES (VPAP) AT SINGAPORE VET AT A DISCOUNTED RATE
Veterinary Practitioners Association of the Philippines (VPAP) is delighted to support the inaugural Singapore Vet, and we are excited to invite VPAP members (YOU!) to join us this 11-12 October at Suntec Singapore at the heart of the garden city. This brand new veterinary conference and exhibition presents a high‑energy experience where you can explore clinical and business topics with some of the world's veterinary leaders and innovators.
Don't miss this opportunity to earn up to 14 points of practical CPD while you engage with leading speaking sessions, curated by Professor Jill Maddison from Royal Veterinary College. You can expect unparalleled CPD that will leave you with valuable insights for you, your practice and the whole veterinary team. In 2 days, you will earn the CPD hours you need, meet with suppliers and socialise with peers during our Singapore Vet party night! View the full conference programme and start planning your personalised learning path to maximise your time at Singapore Vet.
1,500 veterinary professionals are set to gather from the APAC region and from further afield. With hundreds of exhibitors in attendance and 55+ hours of CPD to choose from, Singapore Vet has something for every member of your veterinary team. Join your VPAP peers this October. Register now using our exclusive discount code VPAP at a special price of $299 (USD) here: https://bit.ly/30SAQqT
Got questions? Call us on +65 6817 5807 or email singaporevet@closerstillmedia.com
Don't wait – registration prices will rise to $499 at midnight end of this month, 30 August.