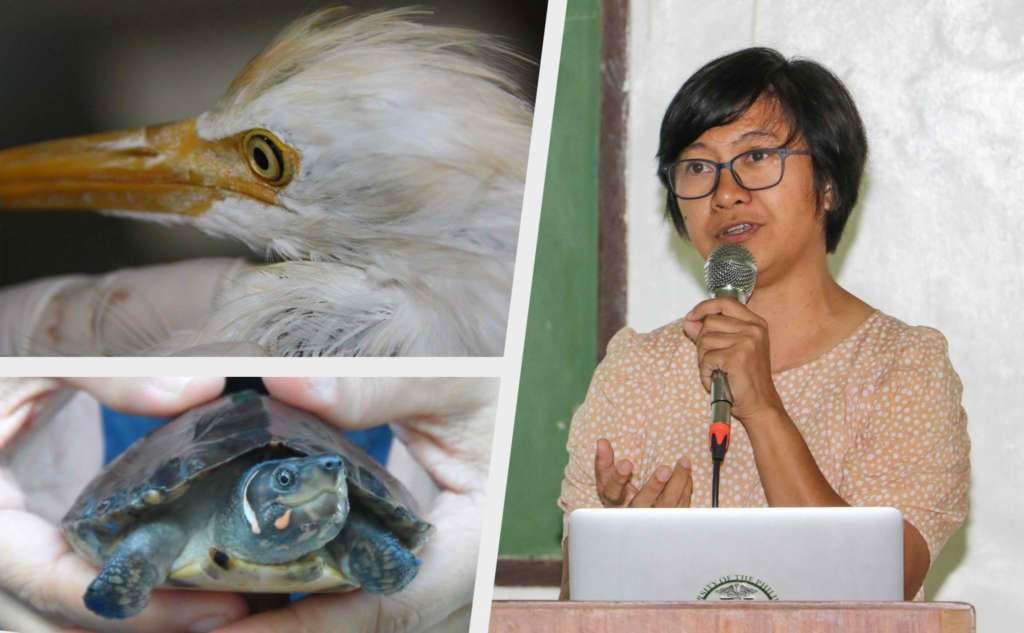 A series of discussions showcased the role of medicine in conserving wildlife and biodiversity during a symposium at UPLB.
The symposium gathered more than 100 veterinary scholars and practitioners from academe, local government units, zoos, conservation centers, and small animal clinics on Mar. 13 at the IAS Lecture Hall.
"Medicine ensures that pathologic events in wildlife are investigated, and if intervention is needed, approaches to treatment and prevention are formulated to promote conservation of species," said Dr. Emilia Lastica-Ternura, assistant professor at the College of Veterinary Medicine (CVM), the event's main organizer.
She also emphasized the value of interconnectivity among experts and urged them to continue exchanging ideas and data to help craft policies and implement wildlife conservation projects.
The symposium's speakers included Prof. David Modrý from the University of Veterinary and Pharmaceutical Sciences Brno (UVPSB) of the Czech Republic.
Prof. Modry discussed how important it is for captive breeding projects and animal translocation activities to prevent emerging infectious diseases that are affecting wildlife.
His fellow UVPSB professors, Vojtech Baláž and Barbora Fecková, cited specific diseases that could threaten wildlife.
Prof. Baláž discussed the detection, treatment, and mitigation strategies of Batrachochytrium dendrobatidis, a fungus affecting amphibian populations in many parts of the world including the Philippines.
Prof. Fecková talked about Angiostrongylus cantonensis, the rat lung worm parasite affecting several species of birds, dogs, horses, and monkeys. It can also affect humans.
Dr. David Nejedlo, director of the Zoological Garden of Liberec in Czech Republic, and Mike Cranfield, a director emeritus of Gorilla Doctors, shared their experiences in their respective fields.
Emerson Sy, country director of the international illegal wildlife trade watch group TRAFFIC, called for strict conduct of tests to detect wildlife laundering, which could also prevent the introduction of diseases from wild animals.
On Mar. 14, the second day of the event, workshops on Parasitological Diagnosis (PD) and Angiostrongylus cantonensis detection (ACD) were conducted at the Department of Veterinary Paraclinical Sciences and the Veterinary Teaching Hospital of CVM, respectively.
PD is a test that determines if parasites such as worms, blood parasites, mites, ticks, and fungi are present in a given biological sample, while techniques in the detection of Angiostrongylus were demonstrated and practiced during the ACD.
Dr. Ternura said that they plan to hold similar activities in the future to give more attention to conservation medicine.
"We feel that it is imperative to act now, because we do not have time; we are on the verge of an age of mass extinctions as we speak," she said.
"It is time to put wildlife and environmental health in the limelight, as this will ensure that we still have species that will remain with the future generations," Prof. Ternura concluded. (John Glen S. Sarol I Photos courtesy of CVM)
Original post from http://uplb.edu.ph/top-stories/cvm-brings-wildlife-conservation-med-into-the-limelight/